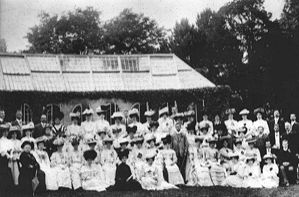 Stroud Choral Society was founded in the mid 19th century soon after the opening of the Stroud Subscription Rooms in October 1834, making the Society one of the oldest in the country.
Thanks to extensive research by member Susan Freck in her book '
Stroud Sings – the history of Stroud Choral Society 1834-2000'
we know there were at least 74 concerts in the nineteenth century and that performances of works by Handel, Haydn and Mendelssohn were popular aided by a strong membership that was often well over 100 and a loyal audience. However financial worries were never far away. In 1904 the local newspaper recorded that the Society had 'Died of Ambition'. A small town cannot be expected to maintain oratorio performances at £100 a time. How wrong that reporter was!

The twentieth century had its challenges. During the 2nd World War the choir performed 15 daytime concerts, to avoid black out restrictions but by mid-century a pattern of 2 or 3 evening concerts a year was well established although not without financial pressures.
'We lost heavily on our concerts, we have liquidated our reserves, we have a deficit of over £50 and in consequence we have not got a brass farthing with which to start next season' Treasurer's report, March 1952.
While always a concern, finances are now more robust supported by a strong membership and loyal audience.
A number of well-known soloists have sung with us including Dame Sarah Connolly, Sophie Bevan, James Bowman, Amanda Roocroft, Felicity Lott, Robert Tear, Janet Baker and Heddle Nash.
Top 10
Stroud Choral Society Sings
Throughout its history the repertoire of the choir has included the great oratorios. Handel's Messiah has been performed 32 times with the first performance in 1863. Mendelssohn's Elijah, Haydn's Creation and Brahms' Requiem tie for second place. The choir has also sung many new works and pieces by local composers, including commissions.
Highlights from the last 30 years

1995 – The Cotswolds by John Sanders was commissioned to mark the Choir's 150th Anniversary
2004 – Benjamin Nicholas appointed Music Director
2006 – Dame Sarah Connolly DBE became President of the Society
2006 – Berlioz Grande Messe des Morts as part of Cheltenham Music Festival, conductor Martyn Brabbins
2008 – Joint performance of Vaughan Williams' A Sea Symphony with Monmouth Choral Society and Stroud Symphony in Tewkesbury Abbey
2009 – Huw Williams appointed Music Director
2014 – First Stroud Choral Society Tour to the Netherlands (for
Tours
, click here)
2015 – Minpins founded, Stroud Choral Society's children's choir, conductor Zoe Hynes
2016 – Brahms Requiem in St. John's Smith Square, Lond on
2016 – Fauré Requiem, Swansea
2017 – World premiere of a specially commissioned work, The Pelicantata by Peter Ash
2017 – Stroud Choral Youth Choir founded, conductor Zoe Hynes
2019

–

Alan Fairs became President of the Society
2020 – Simon Bell appointed Music Director
2020/21 – Zoom rehearsals continued during the Covid-19 pandemic
2021

–

Peace in Our Time, a joint performance with Cotswold Players, SCS and Capriol Chamber Orchestra, 3 of the oldest performing arts organisations in Stroud, for the 75th Anniversary of the Stroud Arts Festival
For further information about the history of the choir please contact Jane Willmore, Society Archivist, at archivist@stroudchoral.org